2016 Catalyst Awards & Celebration
Tuesday, October 25, 2016 @ 6:00 pm

-

8:00 pm

Science Club for Girls is a nonprofit organization that fosters excitement, confidence and literacy in STEM for girls, particularly from underrepresented communities, by providing free, experiential programs and by maximizing meaningful interactions with women mentors in science, technology, engineering & mathematics.
---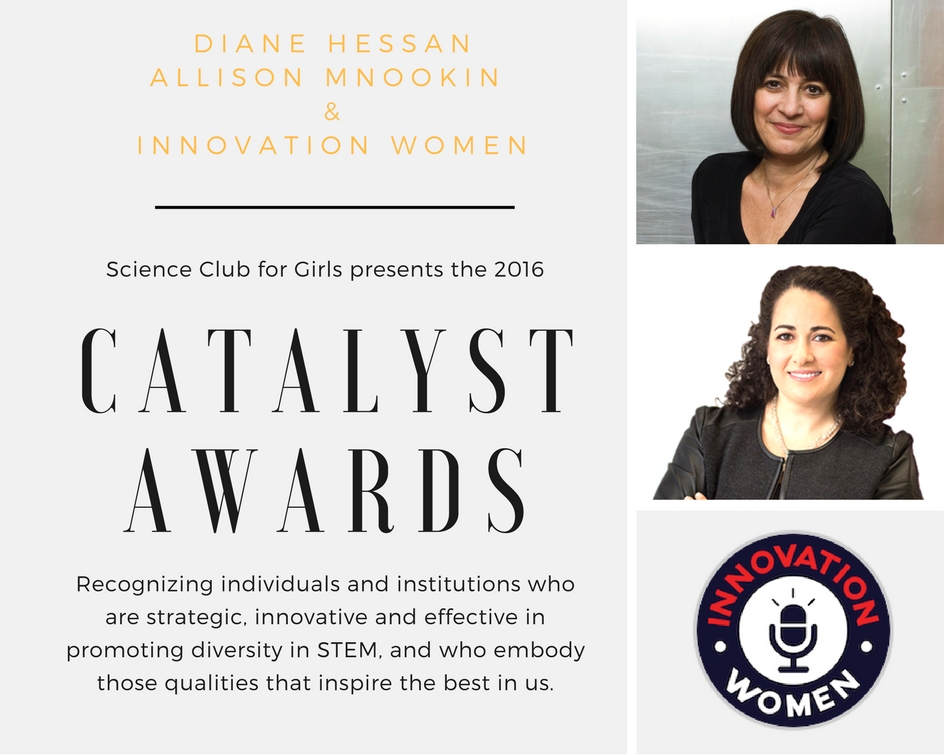 It's an evening of conversation, connections, and joyful celebration of the women who inspire and empower us – living examples of the values that spark more girls every year to discover a true love of STEM.
Please join us as a community in support of our work!
For 22 years, Science Club for Girls has given girls the confidence to learn, grow, and achieve as scientists and technologists, as leaders and mentors, as young women who are finding their own careers in STEM.
Unique in mission. Determined in purpose.
Only Science Club for Girls brings together the diversity, depth of programming, personal and leadership development, and community network that enables girls and young women with a love of STEM to join together for fun, learning, and advancement.
Honoring those who inspire!
Role models matter.  That's foundational to our mission and a key lever for inspiring our girls and helping them build their confidence and curiosity.  It's equally important to us as an organization to raise up and honor role models – female leaders in STEM as practitioners and advocates – that inspire us to greater heights.  Stay tuned for news about this year's outstanding Catalyst honorees, and be sure to join un on October 25th to celebrate!
(CLICK HERE for more details)
Individual · $100
Small Group (4-7) · $95/person
Large Group (8+) · $90/person
2016 Catalyst Awards & Celebration
MASS AWIS is the Massachusetts Chapter of the National Association for Women in Sciences. Our mission is to support women in all scientific fields and to achieve equity and full participation for women in science, mathematics, engineering, and technology. Our events and membership are open for the public regardless of their gender, professional background, or career level.